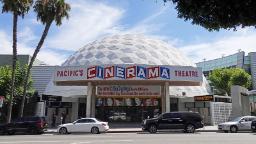 The announcement that Pacific Theaters saw no economically viable path to reopen its California branches – including the iconic Cinerama Dome in Hollywood – swirled through the entertainment industry on Monday, causing people to recall movies they'd seen there.
"I'm so sad,"
tweeted actor Joseph Gordon-Levitt
and summarizes the answer. "I remember going to the Cinerama Dome with my dad to see Star Trek IV when I was little. So many memories since then."
Others told similar stories. Personally, this would include "The Wind and the Lion" being seen as a child in the mid-1970s and Sean Connery – who is one of the standout names in this year's "In Memoriam" segment of the Academy Awards – wielding a sword in epic, daring way.
The Oscars have always been a prime time commercial for the films, celebrating both their past and present and introducing them to a global audience. But while a year of pandemic shutdowns hasn't dampened the craze for the escape into entertainment, it has cast dark clouds over the future of theaters and whether people who feed a steady diet of streaming content into their homes will be lured out of them easily, especially if public health concerns remain about mass gatherings and crowded indoor spaces.
The conversation on social media immediately turned to efforts to "save" the Cinerama Dome in particular, and it seems possible that someone, whether it be a consortium or an organization like Netflix, was running Hollywood's Egyptian theater last year bought the goodwill acknowledging that would come from ensuring the survival of such a historic landmark.
However, the broader question of what happens to films and films remains a mystery. Seemingly every encouraging sign – like the top US pandemic box office result for "Godzilla vs. Kong," a movie whose big names call for a screen of similar stature – has been offset by a cautionary disclaimer, delayed release, or some other regression.
Awards ceremonies have struggled in this environment, and disappointing ratings for the Grammys and Golden Globes have fueled dire predictions for the Oscars, which will air on April 25th. Virtual presentation that, while it lifts the mood, probably doesn't do much to improve voting.
However, if the reaction to the Arclight and Pacific news suggests anything, the film industry is at a weak crossroads, which gives the solemn aspect of the awards a clearer and more urgent task.
What wins the best picture this year will almost certainly be the most prevalent among the audience on a couch rather than a theater seat. As the movie business prepares for a summer and fall with much higher hopes than 2020, the most important task could be to remind people not only of what they saw but also what they missed.