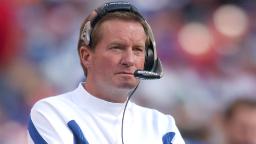 A spokesman for the Giants said the team had been briefed by close friends of Fassel's family.
Fassel, who had lived outside of Las Vegas, was rushed to hospital on Monday with chest pain and died of a heart attack under sedation, according to the Giants, citing numerous media reports.
Fassel led the Giants to the playoffs three times during his tenure on the team, including a Super Bowl appearance in 2001 where New York lost to the Baltimore Ravens in Super Bowl XXXV.
He trained at the college and professional levels for 30 years, with stints as head coach at the University of Utah and assistant coaching roles with the Denver Broncos, Oakland Raiders, Arizona Cardinals and Baltimore Ravens.
Current Ravens trainer John Harbaugh
paid
His respect for Fassel in a statement Tuesday, saying that although he has never trained with Fassel, "he has always respected and valued his attitude towards the coach and the way he treated his players."
Fassel trained Hall of Famer John Elway as an offensive coordinator at Stanford and the Denver Broncos.
The broncos
said
in a statement: "We are sad to hear of the
death
of former Broncos Offensive Coordinator (1993-1994) Jim Fassel. Our hearts go out to the Fassel family."
But it was Fassel's seven seasons with the Giants that he valued the most.
"It was a great time, a great time," said Fassel in a 2014 interview with the Giants.
"People ask me, 'Wasn't the media terrible for you?' No, I am friends with many of them. I respect the media. You have a job to do. Tell you what, I've been to (five) different franchises (including Baltimore where he was an assistant giants) but at the Giants I learned to coach in the NFL, mostly from George Young (the late General Manager and Pro Football Hall of Famer). You're doing it right. You line up the marbles to win. "
Fassel was the head coach of the New York team at the time of the September 11, 2001 terrorist attacks. He was at the forefront of the Giants' efforts to help the city recover.
Visit CNN.com/sport for more news, features and videos
"Giuliani's (former Mayor Rudy) office asked me if I would come over and just walk around and shake hands and tell them we support all of these people," said Fassel.
"I went there three or four days later and it was amazing. You stand there and this space is just wide open. I asked her, 'What should I do?' They said, "You can cheer them up. People recognize you, you can just support them." So I did that. And it worked. That's how I came into contact with some fire fighters for the first time. Even those from abroad, mostly some from California, recognized me, and I stopped and spoke to them. These guys looked like they didn't sleep in days, they were dirty. I just said, 'Thank you guys for what you're doing here.' You're trying to do a little something for her. "