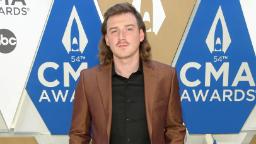 Wallen first thanked his supporters.
"I wanted to let you guys know that I took a couple of months away and felt like I really worked on myself," the note reads. "I'm proud of the work I've done and, in many ways, grateful that I had the time. I needed this free time."
Wallen faced a backlash in February after a video surfaced in which he reportedly used a racist bow and swear words.
The country singer, who was no longer featured on Saturday Night Live last year after violating Covid-19 protocols, was spotted in a video TMZ first posted with a
group
outside of his Nashville home.
"Take care of that" p * ssy-a ** m * ther ** ker "-" you can hear Wallen say before he adds "take care of that p * ssy-a ** n *** er" , "apparently in relation to one of the people with his group.
The singer apologized.
"I am embarrassed and sorry. I used an unacceptable and inappropriate racial fraud that I wish I could take back," he said in a statement. "There are no excuses to use this type of language. I want to sincerely apologize for using the word. I promise to do better."
While several radio stations moved to get Wallen's music out of the air, his record sales skyrocketed after the controversy.
Last month, Billboard reported that its "Dangerous: The Double Album" spent its first 10 weeks at # 1 on the Billboard 200, the first album to have consistently done so since 1987 after its debut.
But his career seems to be falling behind, as Wallen wrote in his note published Tuesday: "This period not only taught me how to improve, but it also reminded me that I am still very proud of whom am. " I am and the man I become.
"I found that time to be very valuable to me in many ways, but I feel like I need a little more of it and so won't be doing tour dates this summer," he wrote. "It means I'm not going to play festivals or Luke Bryan's tour dates. But personally, if you can, I care to go to those shows anyway – support country music. Country music is back and that's one damn nice thing. "