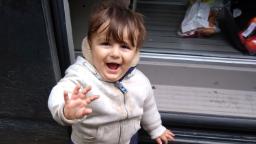 "It is now positive that the boy found is Artin Irannezhad. He is of Iranian descent and disappeared on October 27 last year in a shipwreck in the English Channel off the coast of France," said Southwest Police chief investigator Camilla Tjelle Libra in a statement on Monday.
Artin was 18 months old when he disappeared, police said. Both his parents and his two older siblings died in the shipwreck. The family was among 19 migrants aboard the boat to Great Britain that capsized in French waters.
When the small body washed up on the Norwegian island of Karmøy, there were no reports of missing babies in the area and no family had contacted local police, a Southwest Police spokesman told CNN on Monday. The blue overalls Artin wore were not a Norwegian brand, which suggested he was not a local, police also said.
Artin's family was Iranian Kurdish, according to HENGAW, a human rights organization focused on Iranian Kurdistan.
Forensic scientists at the University of Oslo were able to match Artin's DNA with that of a relative in Norway last week, the lead investigator said in a statement.
"It is a laborious process, but we are pleased that we have now received confirmation that it is the missing boy who was found on Karmøy. This story is tragic, but it is at least good to have an answer from the relatives to be able to give. " Tjelle Libra said.
"The police have been in constant dialogue with the French authorities. We have always respected ongoing lawsuits across national borders, but when it turned out that the boy's relative in Norway was closely related, we decided to try to find a match. " that person's DNA with that of the boy, "added Tjelle Waage.
French President Emmanuel Macron and the British Prime Minister discussed canal crossings on Monday ahead of the upcoming G7 summit, according to Downing Street.
"The Prime Minister and the President have discussed the problem of illegal migration across the English Channel," a Downing spokesman said in a statement.
"The Prime Minister noted the ongoing cooperation to manage small boat crossings in the English Channel and called for increased efforts to discourage migrants from making this dangerous journey following the worrying increase in incidents in recent weeks," they added.