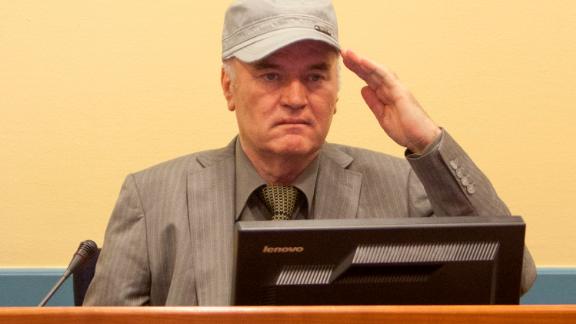 Serge Lchtenberg / Getty Images Europe / Getty Images
Ratko Mladic will appear for the first time on June 3, 2011 before the International Criminal Court in The Hague, Netherlands. Former Bosnian Serb army leader Ratko Mladic will appear before the The Hague War Crimes Tribunal for the first time after he has been declared fit to take legal action. Mladic was arrested a week ago after being in hiding for 16 years and is charged with atrocities during the Bosnian War. (Photo Serge Luchtenberg / Getty Images)


CNN
–
Here's a look at the life of Ratko Mladic, the former leader of the Bosnian Serb army who was sentenced to life imprisonment for genocide and other war crimes.
Birthday: March 12, 1942
Place of birth: Kalnovik, Yugoslavia (now Bosnia and Herzegovina)
Birth Name: Ratko Mladic
Father: Nedja Mladic
mother: Stana Mladic
Marriage: Bosiljka Mladic
Children: Darko and Ana
1965 – Graduated from a military academy and joined the Communist Party.
1992 – As the commander of the Bosnian Serb army, Mladic leads the siege of Sarajevo.
July 1995 – Mladic leads an attack on the city of Srebrenica. About 8,000 Muslim men and boys are killed.
1995 – Mladic is charged with war crimes and atrocities by the United Nations International Criminal Tribunal for the Former Yugoslavia (ICTY).
July 1996 – An international arrest warrant is issued against his arrest.
1996-2001 – He fled to Belgrade under the protection of Yugoslav President Slobodan Milosevic.
2001 – Mladic is leavingwent into hiding after Milosevic's arrest.
October 12, 2007 – Serbian officials offer € 1 million for information leading to Mladic's arrest.
May 26, 2011 – Mladic is arrested in Serbia.
July 4, 2011 – Mladic refuses to make a plea, so the presiding judge is pleading against him on all counts.
May 16, 2012 – The trial against Mladic begins. He is charged with two genocide, nine crimes against humanity and war crimes.
January 28, 2014 – He refuses to testify in the genocide trial against the former Bosian Serb leader Radovan Karadzic and condemns the ICTY court as "satanic".
October 23, 2014 – The ICTY announces that the court will hear details about a mass grave that investigators believe may have links to Mladic.
December 7, 2016 – During the closing arguments, the prosecutor recommends Mladic to be sentenced to life in prison.
December 15, 2016 – The trial against Mladic is adjourned. Three UN judges begin to deliberate on his fate. The process can take up to a year.
November 22, 2017 – Mladic is sentenced to life in prison after convicted of genocide and crimes against humanity.
March 22, 2018 – Appeals his conviction and sentence.
25-26 August 2020 – Mladic's appointment hearing takes place.
June 8, 2021 – A UN court upheld Mladic's conviction and life imprisonment.